Jam El Mar, Mark
Spoon, DJ Dag








outdated archives






Jam El Mar (Rolf Ellmer) is a classically trained musician (concert-guitarist) working as producer since at least 1990. He is best know for his projects Jam&Spoon, Dance 2 Trance, Storm and others, as well as a producer and remixer for other artists.

---




Mark Spoon (Markus Löffel, 27/Nov/1966 - 11/Jan/2006) was a DJ who started his professional career as a cook before he moved on to musical delicacies.
In the late 80's he has performed with both Turbo B (ex Snap) and Moses P (now leader of the German label '3P').


In the early 90's he arranged 'Sound Factory' events together with Alex Azary, and became the A&R manager of Logic Records, the label of Michael Münzig and Luca Anzilotti (aka Snap). Mark discovered Dr. Alban and made his first remixes there.
In the end of '91 Mark and Alex Azary opend a club called "XS" in Frankfurt, who get closed in the end of 1994.


---




In 1992 Jam & Spoon released their first EP named 'Tales From A Danceographic Ocean', containing the massive european club hit 'Stella'. A bit later their remix 'The Age Of Love' became a classic and one of the best sold remixes in techno history.
After this the double album 'Tripomatic Fairytales 2001 & 2002' and the single 'Right In The Night' entered the charts worldwide in 1993.


Beneath their own releases Jam&Spoon are also wellknown for their remixes for artists like Dr. Alban, Quincy Jones, Moby, Enigma, Frankie Goes To Hollywood, Pet Shop Boys, Yello, New Order, Queen, Simple Minds and many many others. In 1994 they received the 'best remixers of the year' award from the UK Mixmag magazine.




(Jam&Spoon feature/interview in KEYS issue 12/1993)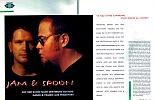 (Jam&Spoon feature/interview in Keyboard issue 04/1994)
Besides Jam & Spoon, Jam El Mar and Mark Spoon formed the more club-oriented projects Storm and Tokyo Ghetto Pussy, under the weird pseudonyms "Trancy Spacer" and "Spacy Trancer".



(Storm feature/interview in
RAVELINE issue 07/2000 - German language)




The Jam & Spoon album "Tripomatic Fairytales 3003" was released in 2004 featuring collaborations with Simple Minds singer Jim Kerr, Reamonn singer Rea, Cranberries singer Dolores O'Riordan, Midge Ure (Ex Ultravox), Xavier Naidoo, Tricky, Plavka and many others.





(Jam&Spoon feature/interview in RAVELINE issue 12/2003 - German language -
Note that the facts stated here are outdated, since the 3003 album was originally announced for January'04)
Mark Spoon died on 11/Jan/2006 ;-(
Thank you for your music, may you rest in peace...




(Some Mark Spoon memorial pages in
RAVELINE issue 02/2006 - German language)
---

(Peyote article -
GROOVE issue 10/1991)
DJ Dag (Dag Lerner) is one of German's most famous DJ's and has played in clubs like Frankfurt's "Dorian Gray" and "Omen" (both closed now). Together with Jam El Mar he formed the project "Dance 2 Trance", they also released some singles as "The Odd Company" and "Peyote".
Sadly, in 1995 they split up. Since then Jam El Mar and DJ Dag have gone separate ways.
Besides this, Dag released several EP's and albums with Non Eric (Hans Jörg Nonn) as Crazy Malamute and Scorpio Rising, as well as other collaborations, solo releases and DJ mixes.
---