---
---
---

Contents


---
Rollo Armstrong (full name according to BMI repertoire: "Rowland Constantine O'Malley Armstrong") has an honours degree in philosophy, he's a Taurus and has a habit of talking around subjects. He was expelled from scouts and became a member of MENSA; He started his own gang called the Krazy Kats when he was 10 and he can write upside down. He swam in the Ganges, won the North Yorkshire heats of a Disco Dancing Championship, was a barman in Sydney, and a gardener for Islington Council. (quote from "Reverence" booklet, probably most of this is a joke, at least the MENSA membership, see Club Cow Interview :-)
In January 1992 Rollo released his first record. Made with 2 friends, Francis Wright (a guy called Felix) and Red Jerry in Rollo's bedroom studio, this record went to sell 2.2 million copies - it was Felix "Don't You Want Me".
Four years on and on Rollo's writing and production skills have brought him sales in excess of 5 million singles. This doesn't include his remixes of 3 UK number ones (Simply Red, Livin' Joy and Gabrielle) and 4 top tens (Pet Shop Boys x 2, M People and Donna Summer). Also included are four bona fide House classics: Kristine W - Feel What You Want, Gloworm - Lift My Cup, Franke - Understand This Groove, and OT Quartet - Hold That Sucker Down - and you have one of the most in demand dance producers/remixers in the world.
He's avoiding cameras and public appearances, he is not performing live, and prefers to be the studio mastermind kept in the background.
FAITHLESS is the first time Rollo entered into the band land area to work alongside vocalists Maxi Jazz and co-conspirator Sister Bliss, on what has turned out to be a long term project. He's thoroughly enjoying the experience.
In July 2000, Rollo's first solo album under the project name "Dusted" has been released.
(German article about Dusted in RAVELINE 03/2001)
(German article about Dusted in Kulturnews 03/2001)
Rollo (right) and an engineer (Grippa?) in front of a mixing desk
Rollo's face mirrored in a glass pane
"Because of his forgetfullness Rollo is the perfect producer. He is still pleased by our melodies like a Punch after he listened to it a hundred times."

Sister Bliss, in an interview



- - -

In 1987 Ayalah Bentovim (Sister Bliss) discovered home music and healthy obsessional interest in the sound and lifestyle ensued. A pianist since the age of 5 it was a natural progression that not only did she start spinning tunes on the dancefloor, she knew she could create her own. DJ residencies at the cream of London clubs and a fistful of demo tapes leads to a meeting with Rollo and the spark that was to fire up many club anthem began.



(Sister Bliss on
"Sister Sister" sleeve)

(Sister Bliss interview
in German magazine
TV-Spielfilm issue 25/2006)

"(Can'tgetamancan'tgetajob) Life's A Bitch", released under her own name, was a huge club and chart hit. It firmly established Sister Bliss as a force to be reckoned with. Sister Bliss is the kind of person who built a shrine to Jim Morrison out of onion peel and stale bread, joined the Woodcraft Folk (lefty version of the Brownies) and hitch hiked to Turkey in the style of "Thelma and Louise". Sister Bliss on Faithless: ...Faithless sits somewhere between trip-hop, dance and good old fashioned song writing, with more than a twist of London grit. "When a man is tired of London, he is tired of life; For there is in London all that life can afford". "Reverence" is a journey through the external world of urban experience, to intense internal world of faith, love and fear.


- - -

The group Faithless has the 'main' members Rollo, Sister Bliss, Maxi Jazz (Maxwell Frazer, a vocalist, rapper, he's been on a jazz band named Soul Cafe Band), joined by guest appearances on each album like Jamie Catto, Dave Randall, Zoe Johnston, LSK (Leigh Kenny) and many additional collaborators (like Dido, Pauline Taylor, Aubrey Nunn, Matt Benbrook, Paul Herman, ...).
Their first single "Salva Mea" was first released in September 1995, but after that "Insomnia" became a Top 10 worldwide, it was remixed and released again. Their debut album "Reverence" has a mix of styles in it, due to the input from musically different individuals, followed by the 2nd album "Sunday 8PM" (1998), the 3rd "Outrospective" (2001), the 4th "No Roots" (2004) and as 5th "To All New Arrivals" (2006).
Besides this, also 4 remix albums, a greatest hits compilation, a live performance video, many singles and other contributions have been released. They are on tour, and their live show is a unique mix of live instruments with loops and samples.

(Faithless cover and article in Mixmag 05/2001)
- - -

Dido (Florian Cloud de Bounevialle Armstrong) was five when she stole her first recorder. This didn't lead to prison, but rather to her entrance one year later to the Guildhall School of Music in London. A bit of a child prodigy, by the time she was 10 she played piano, violin, and the aforementioned recorder. Her teenage years were an interesting mixture of stealing her brother's record collection (from The Clash to Gregory Isaacs to Duran Duran) and touring the UK with her classical music ensemble. And then, at 16, she finally fell in love with Ella Fitzgerald. So began a passion that eventually led Dido from listener to participator: she started singing with various bands in and around London, and despite the fact that her brother, Rollo, told her not to give up her day job, she eventually appeared on the debut album of a band that Rollo formed in 1995.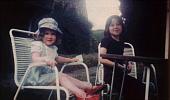 (Dido & Rollo as children)

(The Armstrong Family)

This band was Faithless, and they went on to sell five million records. Over the next two years, Dido toured with Faithless (a very different experience from her classical days) and, whenever she was back in London, also recorded demos of her own songs. On Faithless current release, Sunday 8PM, Dido appears on two songs, one of which incorporates her own 'My Lover's Gone'.
So began the recording of Dido's debut album, No Angel. The album was produced by Dido, her brother, Rollo (obviously now deciding she should give up her day job), Rick Nowels and Youth, and what a beautiful album it is. Unified by both Dido's stunning voice and lyrical acuteness, the album travels through various and diverse styles ranging from the impassioned magnificence of 'Here With Me', the gentle soulfulness of 'Thankyou' (featured in the recent Gwyneth Paltrow movie 'Sliding Doors'), the deep dubbiness of 'Honestly OK', to the lyrical perversity of 'Don't Think Of Me'. Combining Dido's love for warm acoustic sounds and her brother's fascination for beats and all things electronic, the album is both new and classic at the same time. Above all, it is the quality of the songs that will make this album both durable and successful.

(Some Dido pictures taken from the Cheeky page)
(German Dido article in FOCUS 08/2001)
(German Dido article in FOCUS 11/2002)
- - -

Pauline Taylor has a love for songs and song- writing with a heavily traditional approach... meaning, you're gonna get lyrics with passion and relevance and music with bite. So where has this gift sprung from? Rollo was on the search for that elusive fantastic voice that would bleed soul, depth and guts all over his own stunning music; and what does the bugger do? Well he goes and finds it, in the diminutive form of Pauline Taylor.
She enters into the Cheeky dance-fold where she gives it up on a huge range of material, entering the foray of artists challenging your preconceptions of genere and capability, through her powerfull and ground breaking musical style and lyrical observation.


- - -

Many Rollo productions from 1994-2001 took place at the Swanyard Recording Studios (www.swanyard.co.uk) located in Islington, London, UK. Independant and privately owned it was opened in 1985 and closed in February 2001.
It is always difficult to say goodbye but sadly at the end of February 2001 the studios will be closing their glass doors for the final time. We would like to take this opportunity to thank all our clients for their business and support over the last few years. It's been great. With studios like ourselves shutting down all over the place it should make the studio bookings situation a little easier and hopefully more profitable for the studios out there that are left! Its all been such a squeeze over the last few years hasn't it? I wish the remaining studios the best of luck over the next year. Kick some ass!
I would like to say a thank you to a few special people who have worked so hard to make Swanyard such a great studio to work in. James Law (Assistant Manager and part of the comedy duo) Sam Wiltshire (for having grrrrrrrr!) John Harrison (Top Engineer, warmest person I know) Wol Ariec (We appreciate all those sleepless nights, but what a way to catch up with your studies) Gavin Callaghan (unflappable Engineer and crap footie player, fancy breaking your arm Gavin?) Howard Beck & Dave Nally (for keeping everything working so well) Nick Kirkland (for being a Woollyback and awake 24/7) Keith Knowles (for all his support) Grippa (irrepressible) Rollo Armstrong (for all his business and never being enticed away, although I know some of you tried to! I know who you are, I know where you live!) Martin McCorry & Rod Wildman (for arriving on the first day with broken noses and blackened eyes!) James Dalton & Ibi Tijani (for knocking over dustbins in corridors, then hiding and all your hard work) Mel, Raj, Eddie and Sarah(at Champion Records for their business and long may their success continue) Cheeky Records (for all their business) Morgan (formerly of Cheeky now at BMG) All the boys at Dreamhire for proving "service is paramount". Finally I would like to thank myself Michelle Ward for looking after the above with no concern for my own sanity! It really has been a blast and from the Swanyard team we bid you, in the words of Anne Robinson "Goodbye!"...

Michelle, the Studio Manager, Feb 2001



- - -

Cheeky Records was founded in 1991 by Rollo Armstrong - originally set up as an independent label to release 'incredible' dance singles as a solo artist and by other artists, and re-formed in 1994 together with Mel Medalie, who also owned Cheeky's former sister label, Champion. The first release (CHEEKY01) was Frankë's "Understand This Groove" in 1991 produced by Rollo & Rob D. Rollo soon turned to nurturing serious album acts beginning with the ground breaking Faithlesss.
In 2000 Rollo signed an exclusive deal and sold Cheeky to BMG Records who runs it as a sub-label since then (with re-launched promo catalogue numbers starting with Dido's "Here With Me" as CHEEKY001). The "real" BMG Cheeky sublabel releases purchasable in stores usually doesn't have a label-specfic numbering scheme, they're just using the standard BMG barcode / international article number. After BMG's merge with Sony in 2004 Cheeky is now part of the Sony-BMG Music Entertainment group.

In June 2007, Faithless left Cheeky/Sony-BMG to "be masters of their own destiny, to stop churning out hits for radio and get back to the naive experimental early Faithless days" (quote from BBC Music News).

Cheeky numbered discography items:
Rollo's Cheeky (1991-1999)
BMG's Cheeky (2000-)
- - -


Contacts & Links:


Links related to Faithless / Rollo / Sister Bliss:
Official Pages
Articles
MySpace Pages
Rollo/Faithless Fanpages
Dido Fanpages
---
---
tes (tes@tursa.franken.de)

discogm.cgi 1.11